Clarification of "40% of Gold Card Holders leaving Taiwan."
Recent headlines indicate that "Low pay drives 40% of 'Gold Card' expats to leave Taiwan". The headline is incorrectly extracted from the 2022 annual community survey of Taiwan Employment Gold Card holders.
In the survey, conducted from July 29th 2022 to September 14th 2022, 1081 respondents answered the question "Where are you currently?" At the time of their response, 59% of Gold Card holders were currently in Taiwan. The other 41% of respondents simply were not in Taiwan at the time of survey, but does not represent that they have left Taiwan. Instead, 15% of the people not in Taiwan were abroad Traveling for work or vacation, 5% of respondents had just been approved for a Gold Card and were Planning to come to Taiwan, and a further 5% were Outside Taiwan, and had no certain plans yet of coming to Taiwan. Only the final 17% of respondents responded that they No longer lived in Taiwan, but of these, many also said that they intend to visit frequently.

Therefore, this result is not representative of the media statement that over 40% of Gold Card holders have left Taiwan.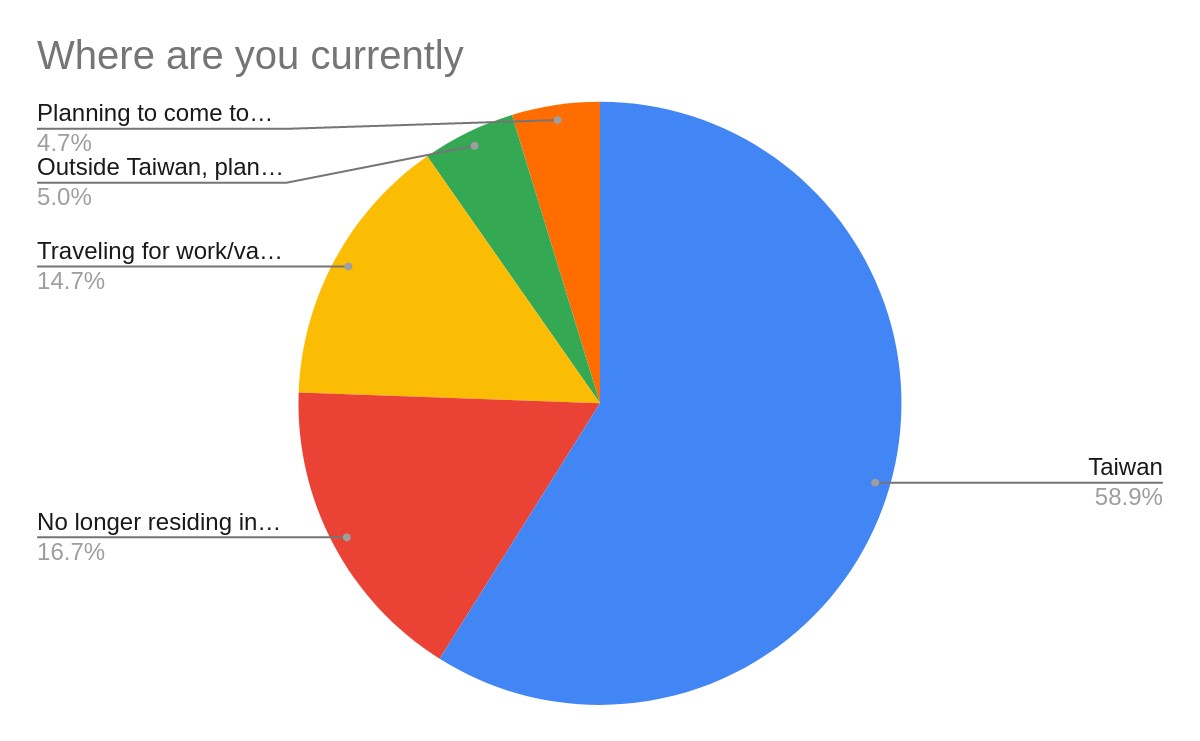 Gold Card holders are foreign professionals that have come to Taiwan from a different country, and naturally desire to travel "home" or to other countries for pleasure and for work. They may travel many times throughout the year.  Their physical location at the time of surveying is not representative of their desire to stay or leave Taiwan. The survey was conducted during summer, traditionally also a time for vacation. Finally, at the time Taiwan was no longer targeting "zero-Covid", resulting in many Gold Card holders eagerly awaiting for quarantine restrictions to be lifted before returning or coming to Taiwan.  
Instead, the survey asks "How long do you plan to stay in Taiwan?"  79% plan on staying over one year, of which 60% plan to stay over 3 years or already consider Taiwan their home.  
A majority of Gold Card holders also plan on applying for permanent residency after their 3-year card validity, with over 3% of the earlier Gold Card holders having successfully converted to APRC.  These facts strongly indicate the desire and willingness of foreign professionals to make Taiwan their permanent home.  
2022 Gold Card Community Survey Report: https://goldcard.nat.gov.tw/en/why-taiwan/gold-card-community-survey-2022/