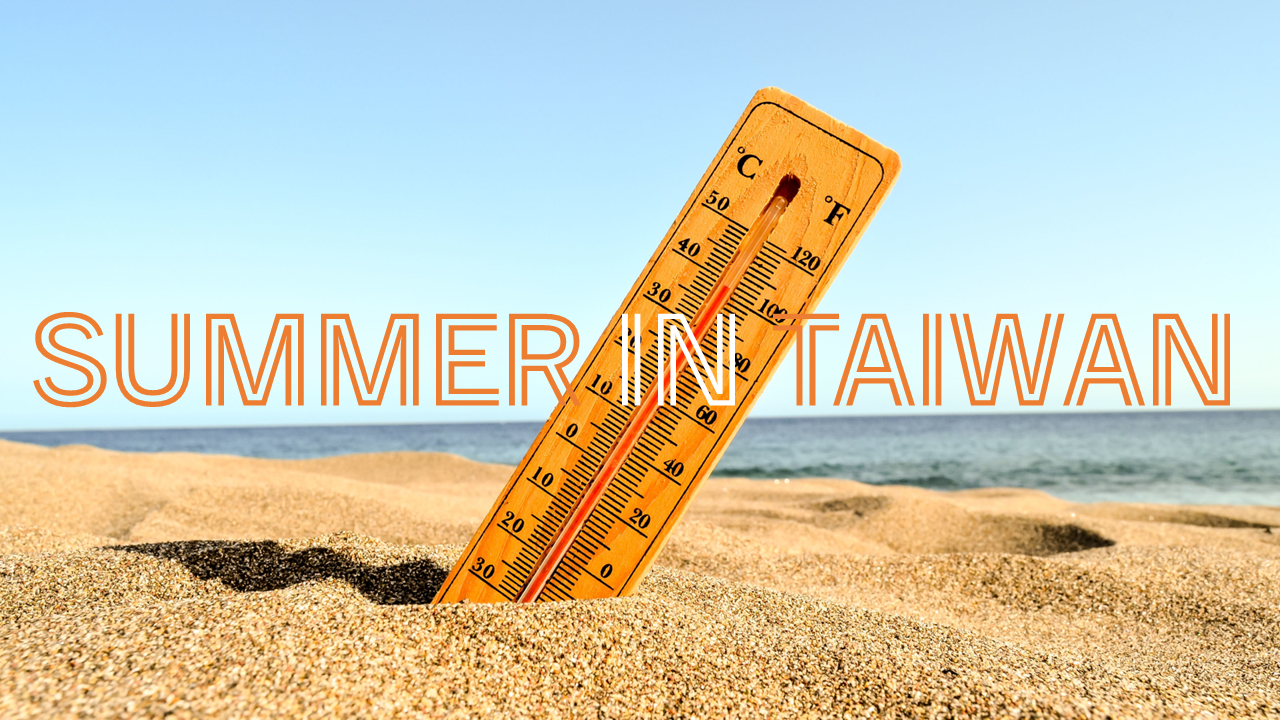 How to Survive Taiwan's Hot and Humid Summers
While it is a paradise for the most part, many agree that one of the greatest challenges of living in Taiwan is surviving the island's sweltering summers. Temperatures in Taiwan reached a new high of 41.4°C in 2022 and with the island's high humidity, especially in Taipei, it's important to formulate strategies to cope with the staggering heat.
Know Your Facts
Taiwan, save for the most southern part of the island, enjoys a subtropical climate. Summers are long and hot, sometimes lasting from April to October. The hottest month, which is July, in the island's most densely populated northern metropolitan area of Taipei and New Taipei City averages 33°C but can feel much hotter due to the urban heat island effect and stifling humidity. In much simpler terms, you'll sweat a lot. A simple trip to the convenience mart across the street, your daily commute to the MRT station, or stepping out to grab lunch may leave you drenched in sweat. This post will offer a variety of tips and strategies that will hopefully make summers in Taiwan much more bearable.
Dress Accordingly
Beating the heat begins with planning your outfit for the day. Your best bet is choosing lightweight and breathable fabrics such as cotton, linen, or those with moisture-wicking properties that can help keep you dry. Many major or global brands in Taiwan have released products designed and marketed to keep your body as cool as possible, so make sure to check out their many offerings. Breathable shoes (when it's not raining) are also great for keeping your feet feeling fresh, especially if you know you'll be doing a fair bit of walking throughout your day. On days where the sun is intense, many people (mostly women) also carry UV-blocking sun umbrellas to avoid tans and protect themselves in wide-open areas.
Plan Your Route
When you need to head out, make sure to plan your travel routes and maximize time spent in cooler, air-conditioned areas such as department stores, underground passageways, or tree-filled parks. If you're walking, make sure to select routes that offer plenty of shade so as to avoid direct sunlight. The same rule applies when waiting to cross the street: find shade, or better yet step into a convenient mart or drugstore and grab a cold beverage or a pack of cooling/cleansing wipes to keep your face and body feeling fresh. Public transportation is also a cool and reliable option, especially in cities such as Taipei whose extensive metro and bus network can get you anywhere you need to be. Speaking from personal experiences, buses are especially great as they are less crowded and usually have AC on full blast, making for a delightfully cool albeit sometimes bumpy experience.
Hydrate, Hydrate, and Hydrate!
With all the sweating you'll be doing, remaining hydrated is something that cannot be overlooked. During the summer season, almost everyone on the streets will be holding some type of refreshment from the ubiquitous beverage shops that are a favorite go-to thirst quenching solution for many locals. Whether you prefer bubble milk tea or the endless number of options available, a pro tip is to always ask for less sugar (usually 50% is quite sweet for many people) and ice (so your beverage isn't diluted if you don't plan on finishing it immediately). It's worth mentioning that there are several other beverage options such as star fruit juice, coconut juice, sarsaparilla, and Chinese herbal tea which are known in Chinese medicine to disperse heat buildup within the body. If water is more your speed, a great option for staying hydrated is filling up a water bottle from home. However, it must be noted that you can't drink tap water in Taiwan and that many homes usually install filters or boil their tap water before drinking. The advantage of having a water bottle is the fact that many MRT stations and tourist attractions often provide water machines where you can refill your bottle.
Treat Yourself
Taiwan, also known as the Kingdom of Fruit, is undoubtedly famous for our signature dessert: mango shaved ice. This wonderfully refreshing dessert is extra delicious during summer when mangoes are in season. If mangoes aren't your thing, Taiwan also offers shaved ice desserts that can be loaded up with an assortment of toppings such as boba, grass jelly, peanuts, or taro balls. If the heat is having an effect on your appetite, there are also many cold savory dishes that can fill your belly without leaving you dripping with sweat. A popular option is Taiwanese cold noodles which is usually served with a sauce of sesame paste, soy sauce, garlic, and garnished with julienned cucumbers. Add a spoonful of chili sauce for more flavor if you can handle a bit of spice, but skip the typical pairing of miso soup to make it a quick and tasty meal that leaves you cool and satisfied. Another counterintuitive option is hot pot. If you've spent any period of time in Taiwan, you'll inevitably notice that there are countless options for hot pot in every city. It's no secret that Taiwanese people love hot pot and despite the island's long summers, it's possible to enjoy this dish year round because restaurants will almost always blast their air conditioning to make your meal enjoyable. If visiting an all-you-can-eat establishments, you can even top off your meal with endless bowls of premium ice cream from major established brands.
The Extra Mile
If the heat remains unbearable, there are also many products available to keep you cool. The most obvious is purchasing a battery-powered handheld fan to supply yourself with a cool breeze wherever you go. Less common options include cooling sprays, cooling scarves, handheld or wearable air conditioners, cooling patches (that can be applied to the forehead during fevers), or even umbrellas that can spray mist by attaching a water bottle. With all that being said, the best way to beat the heat is definitely staying indoors and enjoying AC when it's scorching hot out.
Bonus Tip: How to Reduce Mosquito Bites When Sleeping
Purchase a powerful mosquito racket and master its' use.
Use a plug-in mosquito repellent for a few hours in your bedroom (door closed) before you go to sleep.
Setup a blue mosquito light to attract and electrocute mosquitos.
Purchase hanging mosquito repellents and place them around your windows that are often opened.
Sleep under a mosquito net.